Safety
We promote safety in the workplace by recognizing safety hazards and directing responsibilities.
By establishing and maintaining a high performance and high quality environment, our employees are able to work safely.
All of our employees are trained to understand and practice good safety measures.
Through safety inspections we maintain and fix unsafe working conditions and practices so that they comply with all safety and health regulations on the clock.
Should there be an accident, all investigations will be conducted thoroughly to ensure the problem will not ensue once more.
Training & Certifications
Employee Training & Certifications
General  Construction Safety & Usage

Hardhat, Safety Glasses
Ladders
Saws
Pneumatic Nailers
Fire Extinguishers

Prevention of Heat Illness
Global Harmonization Systems
Foreman Training & Certifications
CPR / First-Aid Certification
OSHA 10-Hour Training
Forklift Operation and Certification
Harassment Awareness and Prevention Training
Compliance & Communications
In accordance with our program objectives, we resort to several ways to communicate with faculty after their orientation and first exposure.
Weekly Safety Meetings
Regular Site Safety Evaluations
Refresher Training
Monthly check attachments on Important Safety Issues
Part of BSA Framing's code of conduct is ensuring that our employees have the necessary tools to complete their jobs while complying with all regulations and restrictions enforced on the job site.
Fleet Management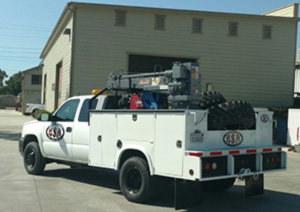 B S A Takes pride in keeping our equipment maintained and operating at full capacity on your projects. Our in house shop with our full time Equipment Manager allows us the ability to control costs and reduce down time.